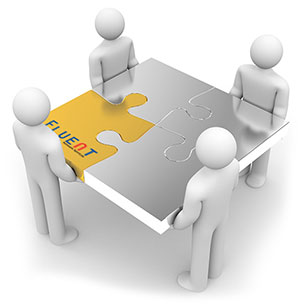 Business IT Support
Having the right technology – and IT support – is critical in today's business world. You rely on your desktop and laptop computers, networks, and servers to handle a multitude of business functions. However, for most small and medium-sized businesses (SMBs), the cost of hiring a full-time tech support staff to deal with all your technology management and IT support is overwhelming.
Fluent Network Services offers you a comprehensive and affordable option: A full team of Central Virginia's best IT experts with the skills and knowledge you need to handle the challenges you may face, all for one low monthly rate.
Fluent Network Services' tech support experts supply:
Hardware design, installation and configuration
Network design and implementation
Software training and support
Technical and help desk support
A fixed hourly rate for your business' IT support
With technology – and your business – constantly changing, it's not realistic for a small organization to rely on just one person to handle all their tech support needs. And yet the cost of hiring a full team of professionals is probably way out of your price range.
Now, for a fixed and affordable rate, Fluent Network Services offers Central Virginia companies like yours the tech support and service you need when you need it, to keep your business running smoothly and efficiently. Our experienced engineers and business IT support personnel can generally work with you over the phone to diagnose problems and get you up and running again. And since our company is in Central Virginia, one of our technicians will come to your business right away if needed to tackle any roadblocks and get you back on track.
Free No-obligation Consultation
Don't wait for a crisis – call Fluent Network Services today to start getting the business IT support you need.